Guess what! I turned 22 on Wednesday! And it sucked!! Well, that's not completely true, but it wasn't the happiest of birthdays to date. It's my own fault that it was a craptacular day for me. It had started off as such a good day too.
Let's start off with me starting work. Well, I FINALLY STARTED WORK! Hurrah! On Monday I went into the office to have my mentor, Pat, set up all my equipment. As soon as I got there, she asked me if I'd received my BC designation in the mail yet, to which I replied, yes.
Pat: "Oh! How would you feel about working tomorrow?"
Me: "Buuuuuh..."
It would seem that they were short reporters and needed me to work. So why not? Baptism by fire? Sure.
Pat prepared me for everything that was essential to know for the next day, and I was on my way. The next day, I was an official, little court reporter. All dressed up in my fancy-shmancy, working-woman clothes; my slick, new, white Diamante stenograph machine; my new, matching white Toshiba laptop. No job shadowing, no supervising. I was big stuff. And you know, I did a pretty good job at playing a court reporter. I may have been dropping about 90 percent of what was being said, but hey, they didn't know that. To them, I was top notch! Luckily they didn't order the transcript...yet... Hopefully they never do. That awful mess should be destroyed.
I already had a second job set up for Wednesday, my birfday! It was suspected that it would be a no-show. A no-show is when the witness is supposed to come in for an examination for discovery and they don't show up. The court reporter is required to stay a half hour after the examination was supposed to start and then the court reporter signs a non-attendance form and can be on his or her way. The court reporter receives a cancellation fee for this. And that is exactly what happened on my birfday. I thought it was a phenomenal birthday present: I showed up for an examination at 10:00 a.m., sat there until 10:30 a.m., and then was on my way, having been paid for my troubles.
After the no-show, I was supposed to go back to the office to meet with Pat. I have a lot to learn. So Pat and I have to meet as often as we can, typically at lunch breaks since she has to work. Pat had a job on Wednesday, but it wasn't starting until 3:00 p.m. So I went to the office expecting to be there for quite awhile. I got there and Pat wasn't there yet. Since I live so close to the office, I walked home and was planning on going back when Pat got in. Turns out, she got in right after I'd left; however, she had just gotten a back order, a past job that is now ordering a transcript, and she didn't have time to meet with me. Sooo... I went into work, did nothing, got paid for it, and then didn't have to go in for a meeting afterward. I was done at 11:00 that day! Not that I mind working or meeting with Pat, but it's pretty freaking sweet to get off super early on your birthday with pay! AND THEN -- Pat told me she wasn't going to be in the office on Thursday. So I didn't have to go in on Thursday either!
Eric and I were pretty stinkin' excited that I was off so early and that I didn't have to go to work or to the office the next day. We didn't have much planned for the day, just going to Red Robin's for dinner. It's our tradition for my birthday.
Great movie.




We've been together for three of my birthdays now, and every time we have gone to Red Robin's. Yum. So other than going to Red Robin's, the day was pretty much open.
Some back story: Eric and I love kitties! In fact, this pretty much sums up how we feel about kitties: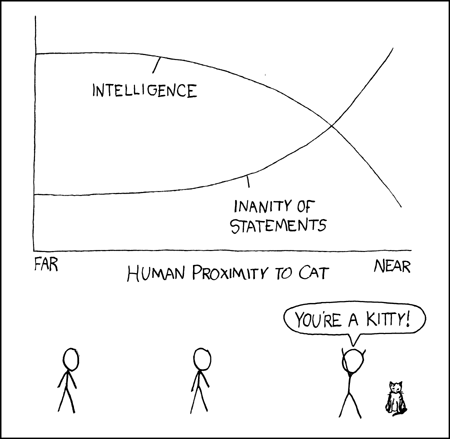 We have wanted to get a kitten for sometime, but our apartment in Edmonton was iffy on pets, and we didn't want to get one while we were both still in school. When we found our apartment in Vancouver and that it allowed pets, we were pretty stoked. We had initially expected to wait a couple months until getting one, especially because we had planned on getting a pure breed called Singapuras. This, however, would have taken around six months and would have been quite expensive. My impatience drove us to look for an average house cat. Since this decision was made a few days before my birthday, we decided Eric shouldn't get me any presents that he'd been planning on getting me because my birthday present would now be a kitten! HURRAH! KITTEN!
Because I'm very particular about my kitties, I took it upon myself to do all of the kitten searching. Ever since I've been little, I seem to gravitate towards female tabbies, either brown or gray, that are short haired, very tiny, and are not likely to get fat. This is the formula for every cat I've ever had. Since my preferred cat is just your average, typical house cat, they have never been hard to find. I figured I could just look on Kijiji or Craigslist, and any kittens I found would be very inexpensive. Easier said than done.
I found only a few kittens that met my strict standards, and when I e-mailed the owners of the kittens, none of them replied. I was starting to get very frustrated that I wasn't finding my perfect kitten, and my birthday was drawing nigh! The night before my birthday, I decided I would give up on Kijiji/Craigslist and try the SPCA. I'd had an irrational trepidation towards the SPCA for some reason. I think it's because I don't like the idea of going to a place with a whole bunch of cats and dogs in cages and not being able to take them all home with me, but at least I know that at the SPCA they aren't going to be put down.
I found a kitten on the Surrey SPCA website that was perfect! Meet our little orphan Annie:
Dah! She's adorable. Everything meets my specifications. She's even the runt of the litter -- just like me! -- which I love! The runts always stay nice and little, and they're full of chutzpah -- just like me!
So that's great. I found the kitten I want. By this point it is Tuesday night, and the SPCA is closed. I get very frustrated when I'm determined to do something and there's nothing I can really do to further my purpose. The best I could do that night was to print out an adoption application and fill it out with great plans for the next day to adopt my little Annie.
So back to Wednesday. Everything started out great, as I said. No work, still getting money, didn't have to go into the office, home by 11:00 a.m. I went right to work trying to get my kitty into my arms. I called the number they suggested for when the animals are in a foster home. Nothing. Just the option to leave a message, which I did. I called the Surrey SPCA. Their answering machine said that the Surrey SPCA branch was currently closed due to staff illness. Great! On my birthday when I need to get my little Annie.
I e-mailed the Surrey branch, I called and e-mailed the Maple Ridge SPCA branch, I called and e-mailed the Vancouver branch. At some point during this process I found out I could do an online adoption application. I did that and set it to get to the Surrey branch. Eventually I got ahold of someone at the Vancouver branch. I told them what the situation was: That I wanted to adopt a foster kitten from the Surrey branch, but the Surrey branch was closed. Could I do the adoption through their branch? I had done an online application.
The woman from the Vancouver branch told me that because it was a foster kitten, they could probably help me with the adoption, but I needed to redo my adoption application and send it to their branch. I immediately did so and tried to call Vancouver to see if they had gotten it. It took me forever to get ahold of them again. By the time I finally did, it was almost time for them to close. They said that they had received my application and it had been sent to the Maple Ridge branch for processing. I called the Maple Ridge branch to confirm that they had gotten it and when it would be processed and whatnot. They said that they hadn't received it! I tried to see if I could scan my printed application to the Maple Ridge branch, but my scanner didn't work! I tried to call Vancouver branch, but it was closed, and now so was the Maple Ridge branch. GAH! It didn't seem that my application had gone through, and I still had no claim on my Annie.
I immediately went into an
awful
slump. I had been working all day on this and had wasted my birthday! I had been calling and e-mailing all over the place, trying to work
something
out. All for nothing! And now I didn't even have a birthday present! And poor Eric was trying to cheer me up because it was my birthday and I was being all miserable-like. I carried on this way for sometime. I was even crabby during our traditional Red Robin's dinner! Oh, Paige. I was quite cheered by a package my dear mumsie sent me, though. A package of Funyuns! One of my favorite American treats! I ate WAY too many of these during the summer, and I was constantly insisting that anyone that went into town had to get me a bag of Funyuns:
Num num! I would have gotten a picture of me with the bag of Funyuns, but I ate them too quickly.
Eric eventually cheered me up, as he always does, when we were walking home from Red Robin's. There was nothing I could do about Annie that night, and I had resolved to stop fretting about it until the next day when I could get back to business!
Eric took me over to the IGA across the way and bought me a Fruit tart,
I'm so impish!
and we watched Alfred Hitchcock's Rebecca. I love old movies, and I especially love Alfred Hitchcock old movies. It was delightful, and I've got to say, I was pretty smitten with Laurence Olivier. Man, they don't make them like they used to. Except Eric. He's the exception. But that's another blog for another day: How exceptionally better old-time actors are when compared to nowaday actors.
The next day, I again went to work to get Annie. I eventually found out through calling around and e-mailing that the Maple Ridge branch had actually gotten my application Wednesday night after hours. They eventually processed it and told me I could go to the Vancouver branch to finalize the adoption, since the Surrey branch was still closed due to illness. Eric and I went right over. Finally! Things were moving along!
When we got there, however, we found out that adoptions cannot go forward unless you've actually met the foster animal and the foster parent before you adopt it. That was actually my bad. On the application was a question asking if all the members of your family have met the animal. I thought this had meant that everyone knew about the kitten and agreed to adopting the kitten. So because of this mistake, we had driven down to the Vancouver branch for nothing. They tried to get ahold of the foster parent while Eric and I were there, but were unsuccessful. Eric and I took a look at their cats, just to make sure there wasn't one there to adopt, but by this point I was totally devoted to Annie. She will be mine!
While we were at the Vancouver branch, we inquired as to the situation with Surrey branch and when it would be open again. The employees informed us that there was some fungal disease going around the Surrey branch and that it had already been closed for a week.
The employees assured us that Annie was on hold for us. At least there was that, but I still didn't have my kitty! The employees left a message with the foster parent and told me that they would get back to me when they heard something. Ugh, another dead end where I can't do anything to further my situation. And even when we did get ahold of the foster parent, we would have to drive to Surrey to view Annie, drive back to the Vancouver branch to do the adoption, and then drive back to Surrey to pick up Annie! Eric and I went home feeling dejected. We had thought we would at least be able to get the adoption finalized and everything, but nothing. It was a wasted trip.
A little while after we got home, I got a phone call from the foster parent! Contact! She had been informed of the situation and suggested that instead of having to do the whole drive around thing, why don't we just meet her at the Vancouver branch on Saturday because she needs to get shots for all her kittens anyway, then we could meet Annie there, do the adoption, and take her from there!
Perfect
! That's exactly what Eric and I had discussed would be a better solution to the problem, and I had e-mailed the Vancouver SPCA right before the foster parent called to see if that would be possible. It was all perfect now! We wouldn't have to do the whole drive around thing and we'd be getting Annie on Saturday! Phenomenal!
I had another no-show job on Friday, Yay! No work and getting paid. Me likey. I met with Pat that day after my no-show and all I could think about the whole day was that I was going to get my kitty the next day! HUZZAH! Victory is mine! I didn't get home until 2:00ish. Eric and I had planned to go out to dinner with my father-in-law, Delbert, and his wife, Dorothy, that night. We were going to go to a Malaysian place that they took us to our first night in Vancouver, ever. I loved it and was super excited to go again with them.
Eric and I were both tired. So we decided to take a nap for awhile before we went out to dinner. I just wanted to get Friday out of the way as fast as possible so I could go get my kitten. A nap and then dinner out in New Westminster was an excellent way to go through the day. As soon as Eric and I got home, it would be close to bedtime and then we'd wake up and go get the kitty!
We woke up from our nap somewhere between 4:30 and 5:00. We needed to leave around 5:30 to get to New West. in time for our reservations. I went and checked my e-mail and was thwarted ONCE A-FRICKEN-GAIN! The foster parent had e-mailed me while I was napping to tell me that the Vancouver branch said we couldn't do the viewing or adoption anymore! I called her to find out what was up. Apparently, the fungal disease at Surrey was ringworm! And any Surrey animals are not allowed to be viewed or adopted until they get the whole situation under control! AAAAAAAAAAGH!!!! I was pretty freakin' irate to say the least! It was almost comical how this process had gone. It was a roller coaster ride of emotion, let me tell you.
Eric called Delbert to reschedule dinner because I was practically huddled in a corner being a blubbering mess. Ooh, those SPCA guys sure pulled one over on me. Tarnation! I e-mailed all the branches I'd been in contact with to try to figure something out. Some way to get the adoption done regardless of what was going on and what the protocol was. The foster parent was sure that Annie and all the rest of her animals were fine and didn't have ringworm. I was furious that if we'd been able to finalize the adoption a day or two earlier and we had gotten Annie, this wouldn't have applied to us.
None of the branches would budge in regard to the protocol. They said I couldn't get Annie until the situation was under control at Surrey, which they suspected would be a week or two. CALAMITY! Sigh.
So that's where we are now. I am determined to have Annie. No other kitten will do. I have formed an irrational attachment to her. After this struggle, there is no way that anyone else can have her! Luckily, she is on hold for me, and she is still very young at seven weeks. Even if we do have to wait two weeks (PLEASE MAKE IT NOT BE TWO WEEKS!) she'll only be nine weeks. Lots of people won't even take their kittens away from the mother at that age. And the foster parent has been super nice about all of this. She wishes she could give Annie to me because she feels Annie is fine. She's been sending me pictures and videos of Annie to cheer me up too. I am definitely hoping that by some miracle everything will have been cleared up over the weekend and I can adopt her sometime this week. Please, please, please!!
So that is the great tragedy that has befallen me at age 22. That is why 22 = POO!
MORE PICTURES OF ANNIE!
VIDEOS OF ANNIE!
P.S. Thanks for all the birthday wishes everyone. They were much appreciated when I was going through all of my trials and tribulations! And thanks for the Funyuns, Mom.
P.P.S. Whitney, if you're going to say mean things about kitties, then you're not allowed to comment.